Viet Nam
A land of staggering natural beauty and cultural complexities, of dynamic megacities and hill-tribe villages, Vietnam is both exotic and compelling.
Hanoi

(Capital)

92.7 Milion

(Population)

Vietnamese

(Language)

GMT +7

(Time zone)

230v / 50Hz

(Electricity)

Dong

(Currency)
WHEN TO GO & WEATHER
Vietnam is one of Southeast Asia's most beautiful countries, attracting travellers to its lush mountains, bustling cities and golden sand beaches. Despite rapid modernisation in Vietnam's urban centres of Hanoi and Ho Chi Minh, time-honoured traditions remain intact amongst the locals.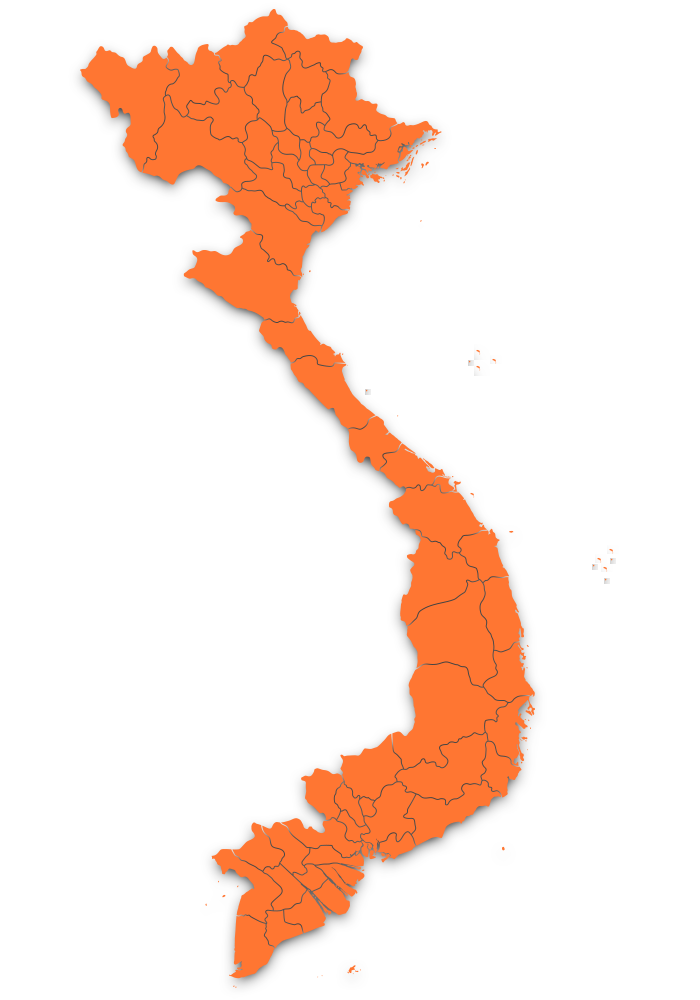 North

 

 

Hanoi, Halong Bay, Cuc Phuong, Mai Chau & Ninh Binh
Hanoi and North Vietnam has a distinct winter and summer season. The cool but mostly dry winter lasts from November to April when temperatures average 17-22°C with the coldest months being January - March. 
Summer lasts from May to October when it is hot and humid and the region experiences its highest rainfall. July to September are often the wettest months of the year. During these months severe weather can prevent junks sailing in Halong Bay although such weather is rare.
 
 
Central
Hoi An, Danang, Hue, Dalat, Quy Nhon & Nha Trang
Hoi An, Hue & Danang in the centre of Vietnam have hot and dry weather from mid-January to late August, with temperatures often reaching the mid-30's °C. During the winter months the rainfall increases with October and November achieving peak levels, occasionally in the form of typhoons.
Hue is often cooler than Hoi An, especially early in the year. In addition, with each sitting on opposite sides of a small mountain range the weather can often differ between the two greatly on any given day.
Quy Nhon is a six hour drive south of Hoi An and shares a similar weather pattern although the dry season is slightly longer due to its proximity to the southern system. 

At the far south of Central Vietnam, Nha Trang benefits from a longer dry season (typically January to September), with high temperatures and little rain . The rainy season runs from October to early December with almost half the annual rainfall falling in October and November. 
Dalat, in the central highlands, is wet from June to October making outdoor pursuits problematic. From November to May it is far drier although cold in December & January. 
 
 
South
Ho Chi Minh City, The Mekong Delta, Phu Quoc & Con Dao, Phan Thiet & Mui Ne, Ho Tram & Long Hai
With temperatures remaining constant year round, the climate of the south is split into two simple seasons, wet and dry. The dry season begins in November and ends in April/early May with late February to May being slightly hotter and more humid. The wet season lasts from May until early November with the months from June, July & August receiving the highest rainfall of the year. Throughout much of the wet season rainfall is generally heavy but short lasting, often occurring in a mid-afternoon heavy downpour.
The average temperatures in the south range between 25 - 35°C year round.
In the far south, the islands of Phu Quoc and Con Dao can be enjoyed year-round, with high chances of sunny days, although if visiting outside dry season, afternoon downpours should be expected.
WHERE TO GO
Frequent Ask & Questions
How to get Visa on Arrival (VOA) ?
Arrival in Vietnam Vietnam Visa on Arrival is a way of getting a valid visa to Vietnam, in which the applicants will need to get a visa approval letter online beforehand and pick up full visa at Vietnam international airport upon arrival.
01. Submit Application
fill out the form online with minimum required information:
Full name – The same as in passport, Date of birth, Nationality, Passport number, Date of arrival, Type of Visa
02. Get Approval Letter via Email
After 2 working days (normal service); YOU WILL:
Get visa approval letter via email (attached with Vietnamese visa application form)
After that, need to:
Print out the letter and the form,
Fill out the Vietnamese visa application form,
Prepare 2 passport-sized photos 4x6cm and cash for stamping fee,
Put all above mentioned things along with your passport in a package,
then show them to Immigration officer at Vietnam arrival airports.
03. Get Visa Stamped at Arrival
Travel worry-free
Upon landing, head to the Landing VISA (VOA) Counter, present the following:
Your passport, Visa approval letter
2 Passport-sized photos
Vietnamese visa application form, and Stamping fee
to the Immigration Officer to get VISA stamped onto your passport.
How to get E_Visa ?
An electronic visa (e-Visa) is a type of visa issued to foreigners by the Vietnamese Immigration Department via an electronic system, providing permission to travel to and enter Vietnam. The Vietnam e-Visa is valid for a maximum of 30 days (single entry).
Vietnam evisa requirements
Before thinking of applying for the evisa, you need to put together a few documents. First of all, you need a valid passport. However, make sure that the passport you currently have will keep its validity six months from your date of arrival in Vietnam. You also need a means of payment. The most common is the credit or debit card, but you can use a Paypal account as well if you have one. Once you have all these, you can go on and fill in the application. Along with the basic information, you will also be required to answer a personal questionnaire. The entire process should not last more than ten minutes. If by any chance, you need some help with the application, there is a 24/7 assistance service that is ready to take your call and help you with whatever questions you may have.
Processing time and cost
As mentioned above, the Vietnam evisa cost is not very high. It is entirely affordable. However, it depends on the processing time you choose when you fill in the application. There are three options:
• Standard processing – the standard processing lasts five business days. It is a long time comparing to arrival letters, but it is a more complicated process, which is why iVisa cannot guarantee a shorter amount of time. The price for this processing is 45$ (or the equivalent of your country's currency.)
• Rush processing – the Rush processing will shorten the waiting time with one day. You will receive the requested document in 4 business days. However, that one day will cost you an extra 30$, which means you will have to pay a total of 75$. It is up to you if that one day is worth the extra money or not.
• Super Rush processing – this option is meant for people who are in a hurry. The evisa will be ready in three business days, but your bill will get a 60$ increase, which means your total is going to be 105$.
The Vietnam evisa is valid for 30 days and provides a single entry. Using iVisa to obtain this document is one of the most convenient ways at your disposal. You do not have to go anywhere, you can save yourself some trouble by not standing in line at the consulate, and the process is highly efficient
If you are getting a Visa on Arrival take dollars to pay for these.
After that, everything should be paid for in Vietnamese Dong. You will get the best exchange rate by taking your home currency with you then changing it to Dong when you arrive in Vietnam. Alternatively, take a card and withdraw dong from an ATM in Vietnam.
Maybe. If you have a 12 month visa, residency permit and proof of employment in VN, you may be able to get a Vietnam licence. International driver's and foreign lisence is accepted in Vietnam but they are not acceptable and if you have an accident you may void any insurance cover. Traffic jam is a huge problem in big cities (Hanoi, HCMC) of Vietnam. We wouldn't recommend anyone to try ride a bike or motorbike there. It's good idea if you use different transport sush as: bus, bicycle, taxi,...
You can buy Sim Card in everywhere in Vietnam (including airport).
SIM cards and top-ups can be purchased practically anywhere in Vietnam – from dedicated mobile shops to mom-and-pop shops operating out the front of someone's home.
Total to get started – roughly 200,000VND (or about US$9) will get you a SIM card and a basic allotment of data.
Connection speeds can be unreliable in high-density areas due to an increasing number of smartphone users.
Add a VPN to your device to ensure access to sites you reply upon and to keep communications secure.